50 for 50 Day 1: Sweaty Betty
This week I am sharing with you 50 of my favorite products to celebrate my upcoming 50th birthday. Today, I am featuring my favorite workout gear: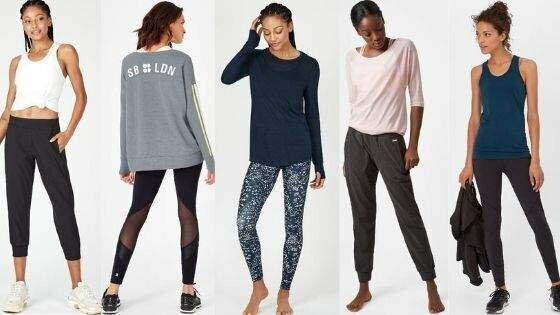 Sweaty Betty
I am not going to lie, working out the way I used to in my 20's and 30's is just not happening anymore.  So as much as I call these "workout" clothes, let me be real with you:  I walk, I do Pilates, I do yoga, I relax, repeat.  However, I get a lot of compliments while doing these activities.  Because I am in shape, you ask?  Ha – Not even close.  Because of my new BFF:  Sweaty Betty.  Sweaty Betty's clothes are super stylish, incredibly soft, well made, never shrink in the wash and oh, so comfortable.  I will not wear anything else.
Go ahead and treat yourself.  You can thank me later.
__________
Garudasana Yoga Pant
__________
Garudasana Lightweight Yoga Pants
__________
Garudasana Yoga Capris
__________
Namaska Bamboo Yoga Tank
___________
Athlete Seamless Workout Tank
__________
Enchant Long Sleeve Top
Buy it here
__________
Luxe Liberty Pants
__________
Bandha Long Sleeve Yoga Top
__________
Simhasana Sweatshirt
___________
Simhasana Slogan Sweatshirt
__________
Favorite Clean Protein Bars
Most days I eat on the go, but truth be told, I could probably take the time to make a meal but don't want to because I am secretly always craving one of these –  JiMMYBARS!  Made in Chicago, started by a super fun brother and sister team, JiMMYBARS! are perfect as a meal replacement, before/after a workout, in between meals – basically anytime you are hungry and need a boost.  My favorite flavors:  Wake & Focus, Wake It Up and Eye of the Tiger, but who am I to discriminate – they are all delicious.
Fun Fact:  These amazing bars powered me through my Mt. Kilimanjaro Climb in 2013.  Let's give it up for JiMMYBARS!  Kid tested, Mother approved.
__________
Shop 'till you drop.